Sheerness tide gauge site
The tide gauge is located on the jetty at Garrison Point, Sheerness Docks.
Click here to see a map of the site in a separate window.
Tide gauge location
The tide gauge is housed in a brick building which has an unused stilling well located beneath a working platform. The equipment consists of a pneumatic bubbler system with two full-tide and mid-tide pressure points mounted on steelwork attached to one of the jetty legs. All three pressure lines are monitored by the POL data logger.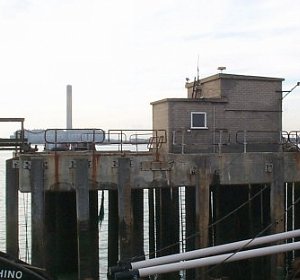 The tide gauge is levelled to the tide gauge bench mark supported by Ordnance Survey auxiliary marks.
External users
There are currently no external users.
Site history
1980 – Ott pneumatic gauge installed and connected to a punched tape recorder
1985 – Punched tape recorder replaced by an Aanderaa
1986 – DATARING installed using the Ott pneumatic, full-tide bubbler and datum probe
1987 – Two full tide bubbler installed
1997 – New steel work installed with two full-time and a mid-tide measuring system
2000 – POL data logger installed
Location
Latitude
51° 26.739'N
Longitude
0° 44.606'E
Grid ref
TQ 9074 7542
Earliest data
1980
Tidal levels
HAT
6.34 m
LAT
0.04 m
MHWS
5.86 m
MHWN
4.81 m
MLWN
1.55 m
MLWS
0.65 m
H for 2023
6.24 m
L for 2023
0.12 m
H for 2024
6.23 m
L for 2024
0.06 m
MSR
5.21 m
MNR
3.26 m
Abbreviations
HAT – highest astronomical tide
LAT – lowest astronomical tide
MHWS – mean high water springs
MHWN – mean high water neaps
MLWN – mean low water neaps
MLWS – mean low water springs
H – highest for year
L – lowest for year
MSR – mean spring range
MNR – mean neap range