Skew surge history: England – East
Other locations:
England – South | England – East | England – West | Wales | Scotland | Northern Ireland | Isle of Man | Channel Islands
Tide gauges on the east coast of England stretch from North Shields on the north east coast down to Sheerness on the Kent coast. In 1953 there was a large coastal flooding event across the east of England which prompted the installation of the tide gauges around the UK. Communities along the North Sea coast were greatly affected as a result of the surge, which locally exceeded 5.6 m above mean sea level, a surge of around 2–3 m above high water. The tide gauge at Sheerness is used in the protection of the London metropolitan area from tidal surges. With London's vast economic importance to the UK and the world, the Sheerness tide gauge is crucial for predicting surge events.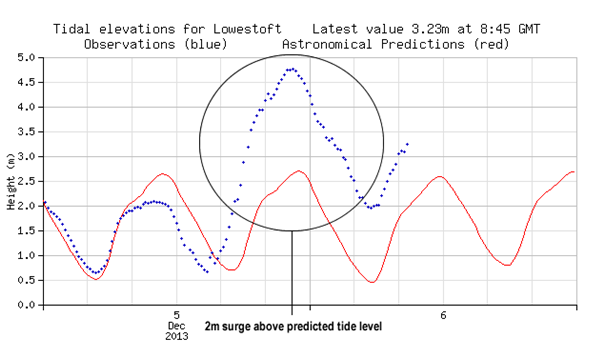 More recently on 5 December 2013 a storm funnelled down the North Sea producing a surge. This surge coincided with high spring tides in the region. The tide gauge at Lowestoft recorded a surge of 2 m above the predicted high water (shown left). On this occasion the winds were coming from the north west so the surge was moving along shore. During the 1953 event the winds had more of an onshore orientation, coming from a more north easterly direction. This would have driven more water towards the coast creating a surge of greater magnitude.
The skew surge results are displayed alphabetically by tide gauge location. Click on images to view larger versions.
Cromer
Data from 1973–1974, 1976, 1988–2012 [data 90% complete]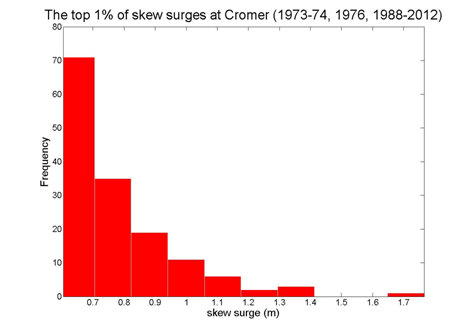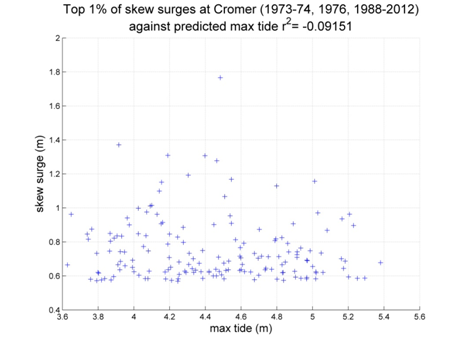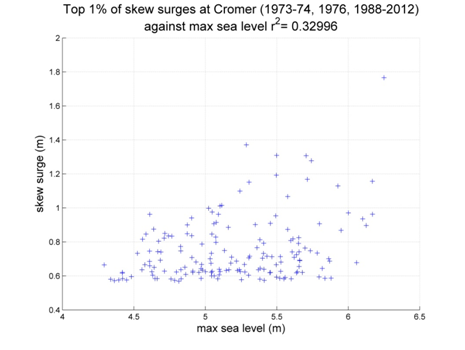 Top 10 skew surges
Date

Surge (m)

1993/02/21 06:15

1.766

2000/01/30 01:45

1.371

2007/01/12 00:00

1.309

2003/12/14 21:30

1.307

1999/02/05 09:15

1.278

2006/11/01 02:15

1.192

1993/01/25 08:00

1.168

1995/01/01 18:00

1.157

1990/12/12 03:00

1.151

1994/01/28 07:00

1.129
---
Felixstowe
Data from 1982, 1984, 1986–2011 [data 86% complete]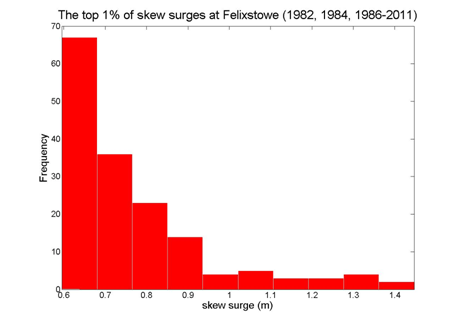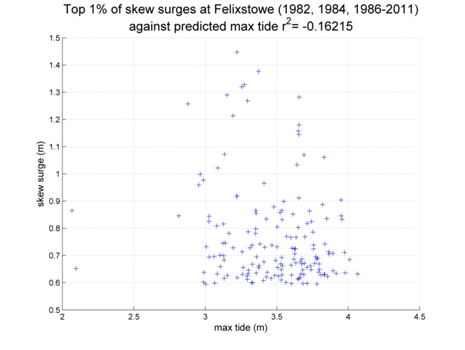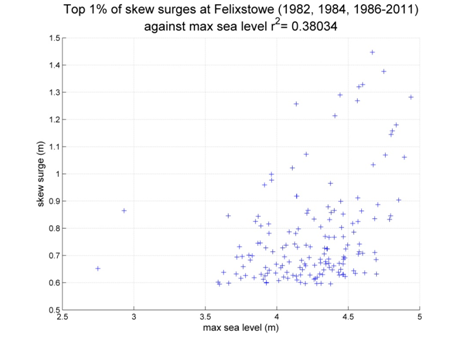 Top 10 skew surges
Date

Surge (m)

1995/01/10 06:15

1.447

1989/02/14 06:00

1.377

1990/12/12 20:00

1.328

1990/12/12 08:00

1.320

2000/01/30 06:00

1.290

1993/02/21 11:30

1.282

2006/10/31 20:15

1.269

2008/03/01 16:00

1.257

2007/01/12 04:45

1.214

2007/11/08 23:45

1.180
---
Harwich
Data from 1954–1960, 1967–1976, 2004–2012 [data 87% complete]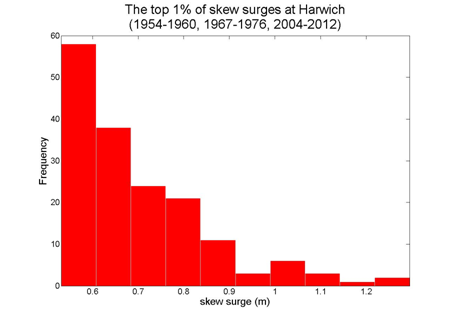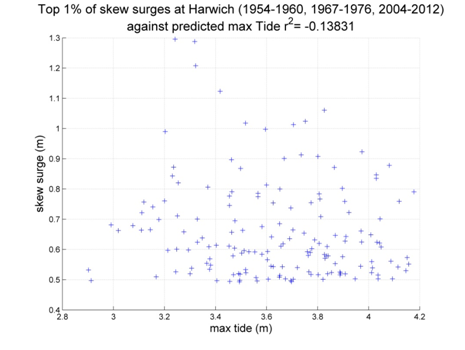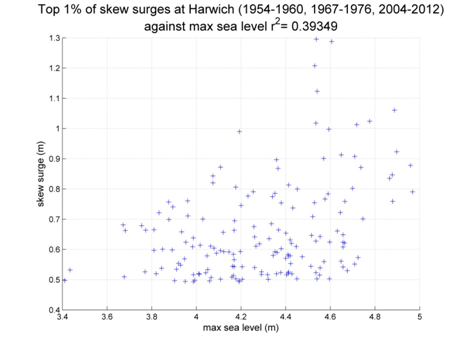 Top 10 skew surges
Date

Surge (m)

2006/11/01 07:45

1.296

2006/10/31 20:30

1.288

2007/01/12 04:30

1.208

1954/12/22 09:00

1.131

2012/01/05 19:45

1.123

2005/12/16 12:00

1.061

1960/01/20 16:00

1.034

2011/12/09 10:45

1.024

1969/02/02 12:00

0.997

1967/03/18 16:00

0.996
---
Immingham
Data from 1953, 1956-1958, 1963-2012 [data 92% complete]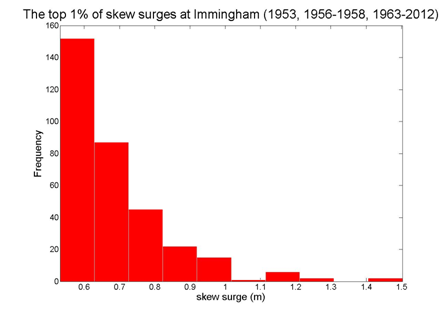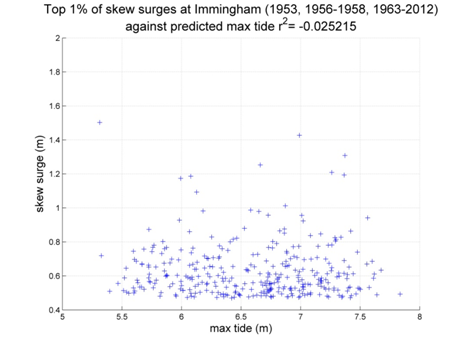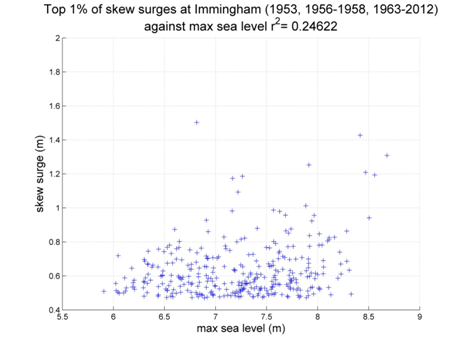 Top 10 skew surges
Date

Surge (m)

2008/03/01 11:00

1.503

1953/01/31 19:00

1.427

1983/02/01 20:00

1.308

1993/02/21 06:00

1.253

1976/01/03 19:00

1.209

1969/09/29 07:00

1.193

1983/01/18 09:00

1.192

1990/12/12 02:00

1.186

2007/01/11 23:15

1.174

1981/11/21 02:00

1.173
---
Lowestoft
Data from 1964–2012 [data 97% complete]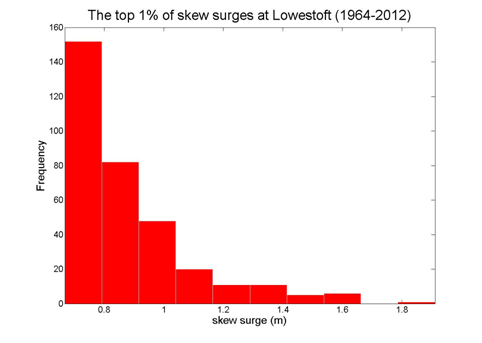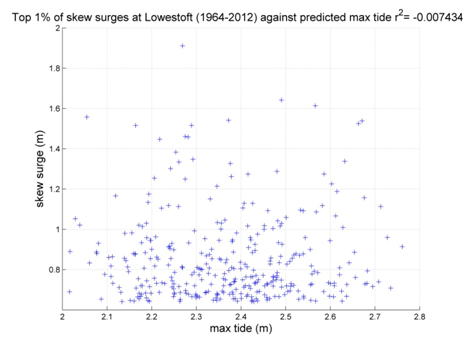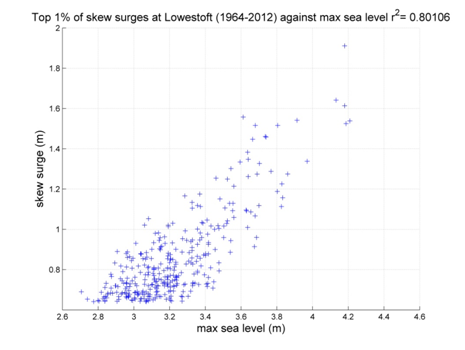 Top 10 skew surges
Date

Surge (m)

1993/02/21 09:00

1.911

2007/11/09 08:15

1.642

1976/01/03 21:00

1.614

2008/03/01 13:45

1.562

1990/12/12 19:00

1.547

1994/01/28 09:30

1.541

1969/09/29 10:00

1.538

1983/02/01 23:00

1.525

2000/01/30 04:15

1.516

1989/02/14 06:00

1.516
---
North Shields
Data from 1946–47, 1949–1956, 1961–1975, 1978–2012 [data 83% complete]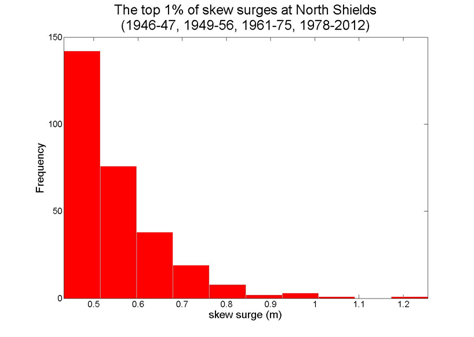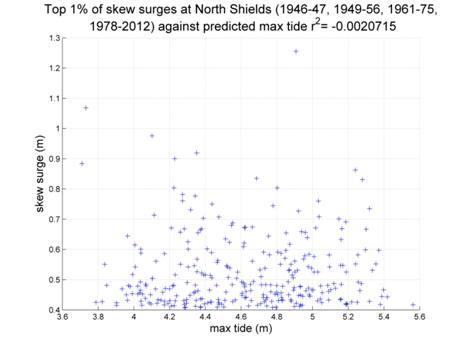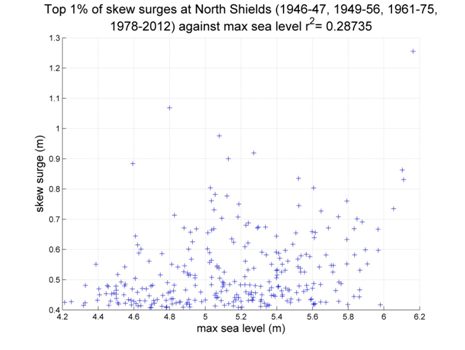 Top 10 skew surges
Date

Surge (m)

1953/01/31 17:00

1.255

2008/03/01 09:15

1.068

2000/01/29 22:30

0.976

1990/02/19 23:00

0.941

1992/01/01 13:00

0.934

2007/01/11 21:00

0.900

1969/09/29 05:00

0.863

1993/02/21 03:15

0.835

2005/01/12 16:45

0.831

2008/12/20 09:30

0.804
---
Sheerness
Data from 1952–2012 [data 79% complete]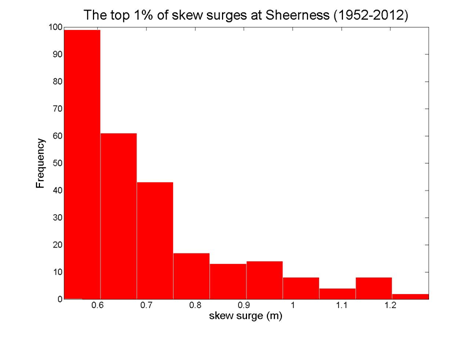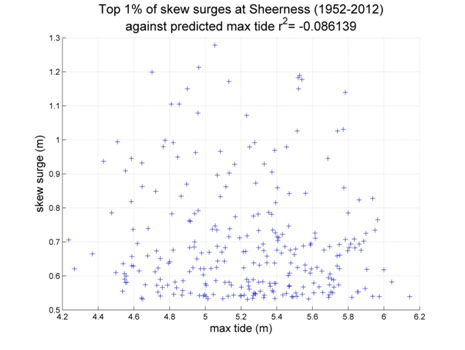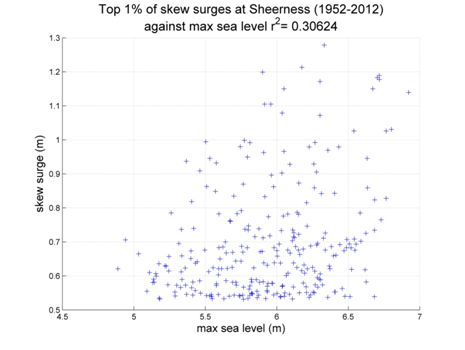 Top 10 skew surges
Date

Surge (m)

1989/02/14 07:00

1.278

1999/12/17 19:15

1.213

2000/01/30 06:30

1.199

2005/12/16 13:00

1.189

1973/11/25 00:00

1.183

1988/12/24 13:00

1.177

1973/12/06 21:00

1.172

2006/10/31 20:00

1.150

1993/01/25 14:00

1.150

1965/12/10 13:00

1.139
---
Whitby
Data from 1980–2012 [data 89% complete]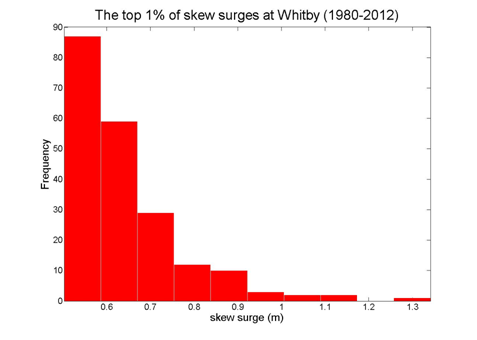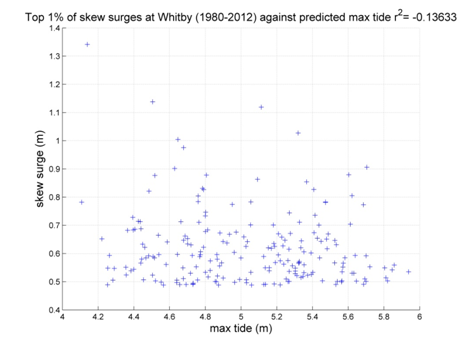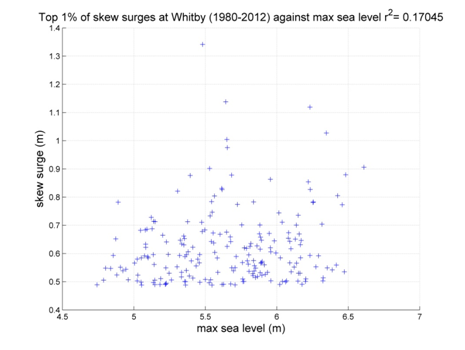 Top 10 skew surges
Date

Surge (m)

2008/03/01 10:00

1.341

2000/01/29 22:45

1.138

1993/02/21 03:45

1.119

1990/12/12 13:00

1.043

2007/11/09 03:15

1.027

2007/01/11 21:15

1.005

1992/01/01 14:00

0.982

2006/10/31 23:15

0.976

1983/02/01 18:00

0.906

2008/12/20 10:00

0.902