Sea level trends around the UK coastline
Sea level trends for locations around the UK coastline are plotted as in monthly and yearly mean form – Read more →
For more information use the UK mean sea level (MSL) time series – international locations are also included in this database.
---
British Isles sea level index
This index is an extension of that published by Woodworth, P.L., Tsimplis, M.N., Flather, R.A. and Shennan, I. (1999) A review of the trends observed in British Isles mean sea level data measured by tide gauges. Geophysical Journal International 136(3), 651–670.
It shows the averaged interannual variability (long term trends removed) from the five long station records.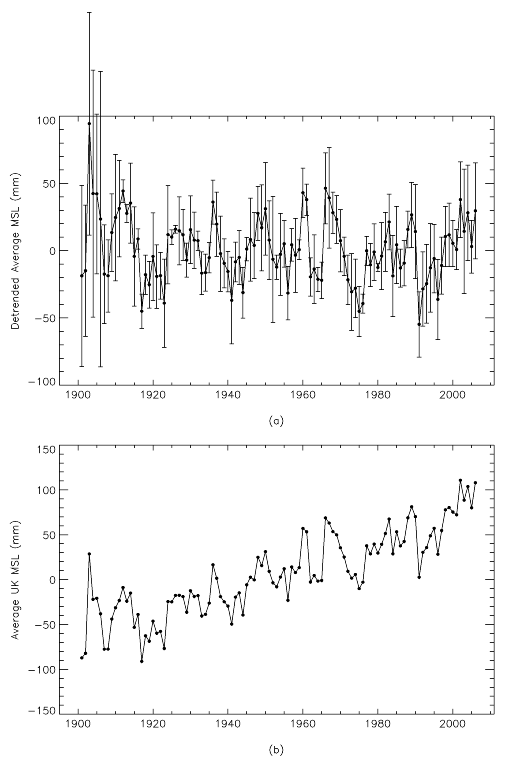 PDF version of this plot (23K)
(pdf files require Acrobat Reader v4 or above)
Long records of annual MSL data from Aberdeen, North Shields, Sheerness, Newlyn and Liverpool are representative of the sea level change around the coastline. First, the long term rate of MSL change was removed from each record, thereby removing contributions from vertical land movements and (linear) climate change associated sea level rise. Then, MSL values from the five records were averaged to make an index of UK inter-annual and -decadal MSL variability, with the index having zero trend by construction, as shown in (a). (The standard deviation of the five values about their mean in any one year is typically 25 mm except for the early years of the 20th century when it is several times larger.)
Finally, a UK-average value for the long term climate change component of MSL change, estimated from a comparison of tide gauge and geological rates at a number of UK sites, was added to make the time series in (b). This average long term trend is estimated as 1.4 ± 0.2 mm yr−1 which is slightly lower than the 1.7 mm yr−1 consensus value for global sea level change over a similar period.
---
Longer British Isles records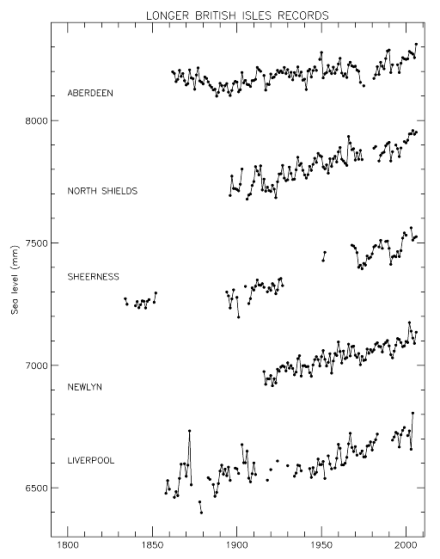 PDF version of this plot (56K)
(pdf files require Acrobat Reader v4 or above)
---
Changes in extreme high and low sea levels
Newlyn and Aberdeen are at opposite ends of the UK and have some of the longer data sets of hourly (or 15-minute) sea level data. The smaller red and blue dots in the plot below for Newlyn show the time series of annual 99 and 1 percentile levels respectively (meaning the levels which sea level is exceeded 1% and 99% of the time) with the long term average for each series set to zero. The use of 99 and 1 percentiles is sometimes preferred over the choice of the annual maximum and minimum water levels (that is, 100 and 0 percentiles respectively) as they provide a description of change in high and low water characteristics without the greater variability inherent in the true extremes. The larger red and blue dots show the annual maximum and minimum water levels relative to the long term means for the 99 and 1 percentiles.
The long term trend in 99 and 1 percentile is 2.2 and 1.8 mm yr−1, compared to the trend of 2.1 mm yr−1 in median sea level. Trends for the extremes are more difficult to calculate because of the greater variability in their records. Those for high and low extreme levels are 2.2 and 1.3mm yr−1. The small gradual greater increase in high waters over low waters is considered to be a consequence of increasing local tidal amplitudes (see, for example, Araújo, I.B. and Pugh, D.T. (2008) Sea levels at Newlyn 1915–2005: analysis of trends for future flooding risks. Journal of Coastal Research 24 (Issue 4 supplement): 203–212).
The corresponding plot for Aberdeen shows trends of 1.9 and 1.3 mm yr−1 for the 99 and 1 percentiles for the period shown, compared to 1.3 mm yr−1 for the median percentile. High and low extremes are again noisier and indicate trends of 3.8 and 0.0 mm yr−1.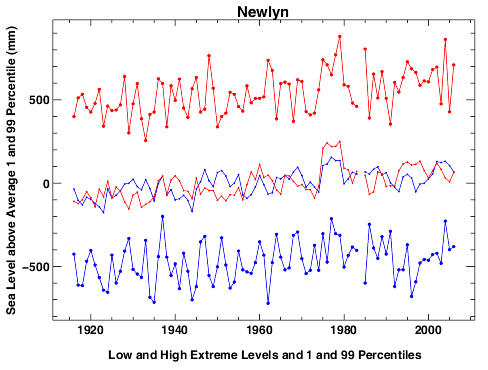 PDF version of this plot (56K)
(pdf files require Acrobat Reader v4 or above)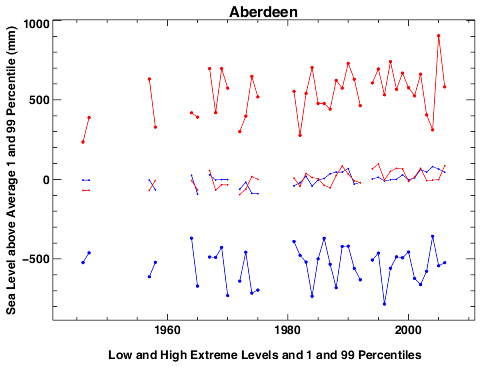 PDF version of this plot (56K)
(pdf files require Acrobat Reader v4 or above)