Skew surge history: England – West
Other locations:
England – South | England – East | England – West | Wales | Scotland | Northern Ireland | Isle of Man | Channel Islands
The three tide gauges on the Irish Sea coast of England record the sea level; tides and weather systems that cross the Irish Sea dictate the sea level in this region.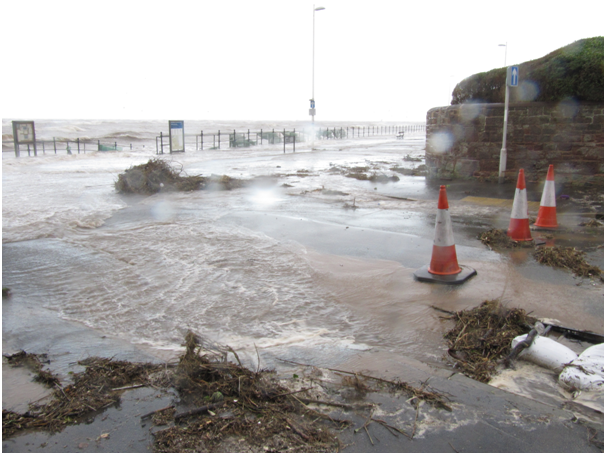 On 5 December 2013 a large storm event across the UK created a surge. This surge peak at the Liverpool tide gauge had an amplitude of 1.25 m. The combination of strong northwesterly winds and high spring tides caused flooding in exposed coastal communites like Hoylake (pictured left).
The skew surge results are displayed alphabetically by tide gauge location. Click on images to view larger versions.
Heysham
Data from 1964–1969, 1971–2012 [data 82% complete]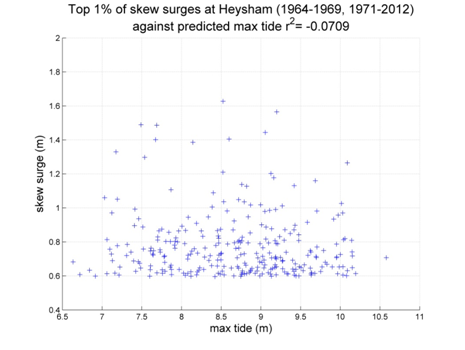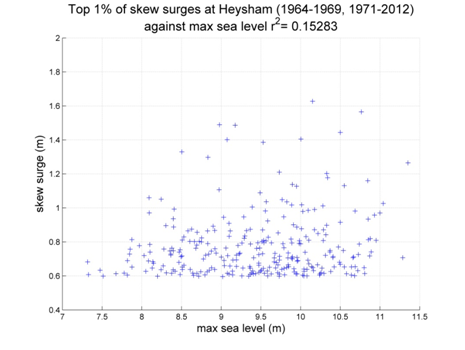 Top 10 skew surges
Date

Surge (m)

1988/02/09 15:00

1.627

1984/01/13 07:00

1.576

2004/03/19 10:15

1.565

1996/11/06 07:45

1.489

2004/10/21 04:15

1.486

1993/01/24 00:00

1.444

1984/01/02 23:00

1.408

2005/01/08 08:45

1.405

2007/01/11 04:00

1.402

1999/12/03 08:15

1.386
---
Liverpool
Data from 1991–2012 [data 87% complete]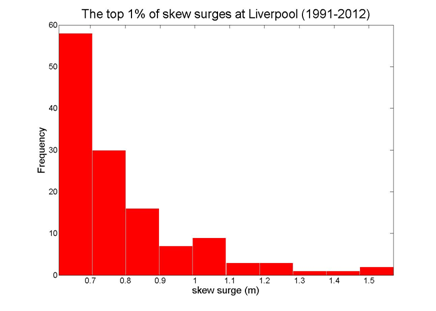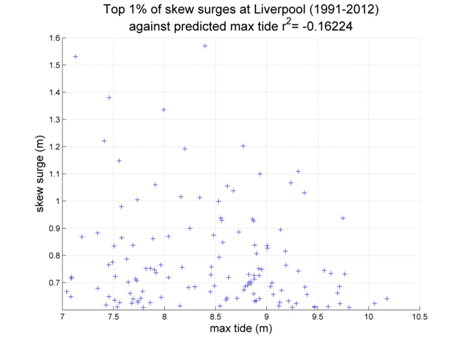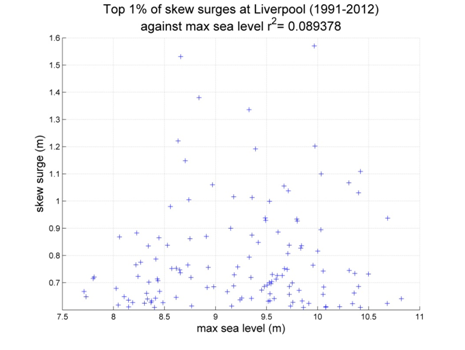 Top 10 skew surges
Date

Surge (m)

2005/01/08 08:30

1.570

2007/01/13 18:30

1.531

1997/12/24 20:00

1.380

1999/12/03 08:45

1.336

1996/11/06 07:30

1.221

1993/01/24 00:00

1.202

1997/02/19 21:45

1.192

2007/01/11 04:15

1.148

1998/01/03 14:00

1.109

2004/03/19 10:15

1.100
---
Workington
Data from 1992–2012 [data 95% complete]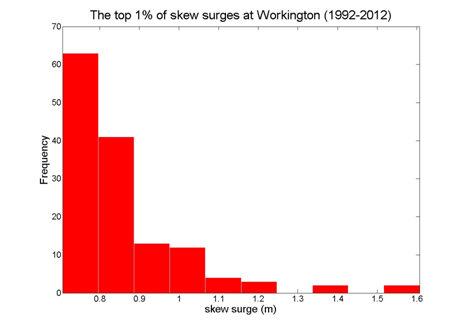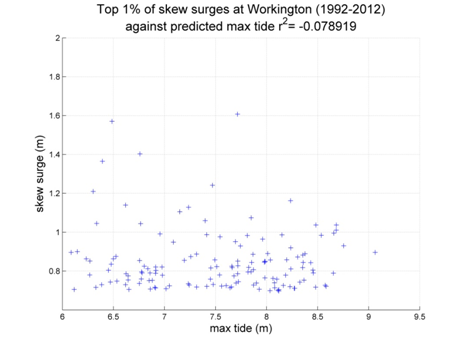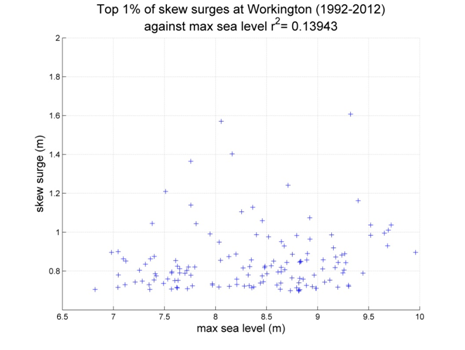 Top 10 skew surges
Date

Surge (m)

1993/01/24 00:15

1.607

1997/12/24 19:45

1.570

1993/01/17 06:30

1.403

1996/11/06 08:00

1.365

1993/01/21 23:00

1.241

2008/01/31 05:15

1.210

1998/01/03 14:30

1.162

2007/01/11 03:45

1.140

1993/12/08 19:00

1.128

1997/02/19 22:00

1.105