Real-time data – UK National Tide Gauge Network
The UK National Tide Gauge Network, owned and operated by the Environment Agency, records tidal elevations at 44 locations around the UK coast.
The UK Tide Gauge Network and its data (displayed on this website) are the responsibility of the Environment Agency. As of April 2016, the network is maintained by the Environment Agency and its contractors. The National Oceanography Centre no longer maintain the network. Please direct all enquiries to the EA's customer services department.
Find out about the instruments, tide gauges and systems – Read more →
Operational status
This shows the latest information regarding tide gauge operations, for example, notes on gauge problems and dates of maintenance – Read more →
Real-time/near real-time data display
Use the links below to view the latest measurements from gauges in the UK Tide Gauge Network
RT – real-time/near real-time data from each tide gauge
ST – site information for each tide gauge location
XL – highest recorded levels for the entire history of the tide gauge location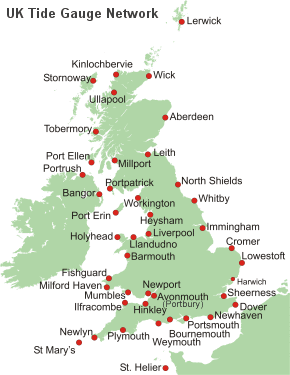 Notes:
Moray Firth tide gauge has ceased operation
Harwich tide gauge supersedes Felixstowe
Chart datum to ordnance datum differences are provided for selected UK and Irish ports – Read more →