Data availability
Data from the UK National Tide Gauge Network are quality controlled and archived by the British Oceanographic Data Centre on behalf of the Environment Agency.
UK tide gauge data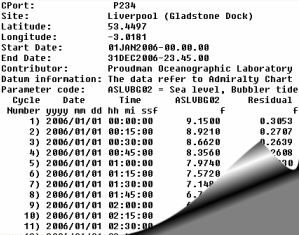 Quality checked tide gauge data are freely available for download via BODC website. This includes 15-minute data values for January 1993 onwards and hourly values prior to 1993. Monthly mean, surge and extreme values are also available for some or all of this period.
Please note there is a delay of three months from date of data collection until these data are available on the website. Requests for quality checked data more recent than this (less than three months old) will incur a processing charge.
To obtain quality checked data you will have to register first. Follow the links below to register and obtain data: 
Download quality checked data
Request quality checked data in the past month
The UK National Tidal Gauge Network is owned and operated by the Environment Agency.
---
Recent tidal data from UK tide gauges
In addition to quality checked data you can also access the latest tidal elevations. However, please note that these unchecked data are from the near-real time system and have NOT been quality checked and normally only refer to the primary system. Apparent gaps in these data (some times caused by dial-up modem problems) are usually recovered during routine weekly downloads of all primary and secondary systems attached to tide gauge loggers.
To obtain unchecked data you will have to register first. Follow the link below to register and obtain data:
Download UNCHECKED data from the last 30 days
These data can also be viewed graphically for today & yesterday, last week and last month using links from real-time data.
---
GPS archived data from tide gauge locations

At selected UK Tide Gauge Network sites there are co-located coastal Global Positioning System (GPS) stations, for which the GPS data can be obtained from the British Isles GPS archive Facility (BIGF) at the University of Nottingham.
---
UK river flood and weather sites
Information on river gauges – maps and data
UK meteorological information from the Met Office