Tidal predictions for UK & Irish ports
Tidal predictions for the next 28 days are available for UK & Irish ports. Predictions spanning one year for British overseas and independent territories, the South Atlantic and Gibraltar are also available.
Use the links below to view predictions at selected locations
HL – high and low water predictions for the next 28 days
RT – high/low waters are not well defined – use predictions shown on real-time plots
XT – highest and lowest predicted tides from 2008 to 2026
England – South
Avonmouth HL | XT
Bournemouth RT | XT
Dover HL | XT
Hinkley Point HL | XT
Ilfracombe HL | XT
Newhaven HL | XT
Newlyn HL | XT
Plymouth (Devonport) HL | XT
Portsmouth HL | XT
St. Mary's (Isles of Scilly) HL | XT
Southampton HL
Weymouth HL | XT
England – East
Cromer HL | XT
Harwich HL | XT
Immingham HL | XT
Lowestoft HL | XT
North Shields HL | XT
Sheerness HL | XT
Whitby HL | XT
England – West
Blackpool HL
Formby HL
Heysham HL | XT
Hilbre Island HL
Liverpool HL | XT
Southport HL
Workington HL | XT
Scotland
Aberdeen HL | XT
Kinlochbervie HL | XT
Leith HL | XT
Lerwick HL | XT
Millport HL | XT
Moray Firth HL | XT
Port Ellen RT | XT
Portpatrick HL | XT
Stornoway HL | XT
Tobermory HL | XT
Ullapool HL | XT
Wick HL | XT
Wales
Barmouth HL | XT
Fishguard HL | XT
Holyhead HL | XT
Llandudno HL | XT
Milford Haven HL | XT
Mumbles HL | XT
Newport HL | XT
Northern Ireland
Bangor HL | XT
Donaghadee HL
Londonderry HL
Portrush HL | XT
Ireland / Éire
Cobh HL
Dublin HL
Limerick HL
Rosslare HL
Sligo HL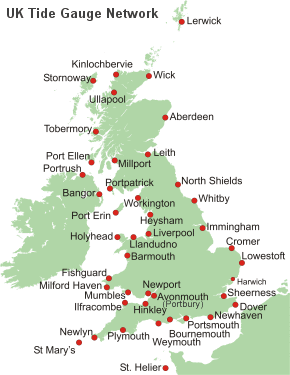 Notes:
Moray Firth tide gauge has ceased operation
Harwich tide gauge supersedes Felixstowe
Secondary ports and ports in Ireland are not marked on the above map
Chart datum to ordnance datum differences are provided for selected UK and Irish ports – Read more →
UK Highest and lowest tidal predictions for twenty years from 2008
Highest and lowest tidal predictions (XT) between 2008–2026 are provided for locations in the UK Tide Gauge Network.
Predictions include:
highest and lowest tidal elevations during this period
highest and lowest tidal elevations for each year
ten highest and lowest tidal elevations during this period
mean high water springs and mean low water springs
mean high water neaps and mean low water neaps