Leith tide gauge site
The tide gauge building and pressure points are located on the lead in jetty at the entrance to Leith docks.
Click here to see a map of the site in a separate window.
Tide gauge location
The tide gauge equipment is housed in a GRP building. The measuring system consists of two full tide-and mid-tide pressure point mounted on steelwork attached to the jetty wall. All pressure lines are monitored by the POL data logger.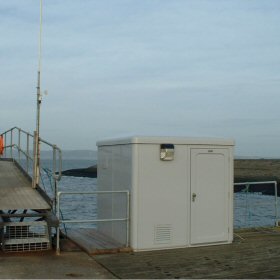 The tide gauge is levelled to the tide gauge bench mark supported by Ordnance Survey auxiliary marks.
External users
Sea level pressures and/or elevations from this site are supplied to the following authority:
Port of Leith, Port Control
Site history
Pre 1979 – Port of Leith operated a Légé gauge
1979 – New tide gauge building with two stilling wells erected at existing tide gauge site; Munro gauge installed
1980 – Ott punched tape gauge installed over the second well
1988 – Ott punched tape gauge removed and a Wellhead unit installed
1988 – DATARING system installed and connected to the Munro gauge and Wellhead unit
1989 – The Munro stilling wells severely damaged in a storm
1990 – All equipment removed for the refurbishment of the tide gauge building
1990 – A single full-tide bubbler system and Munro gauge reinstalled
2002 – POL data logger installed
2004 – The tide gauge building was extensively damaged by a fire
2005 – New GRP tide gauge building installed with a single full-tide bubbler system
2006 – New steelwork installed with two full-tide and mid-tide pressure points connected to the POL data logger
Location
Latitude
55° 59.39'N
Longitude
3° 10.902'W
Grid ref
NT 2638 7806
Earliest data
before 1988
Tidal levels
HAT
6.24 m
LAT
-0.07 m
MHWS
5.61 m
MHWN
4.50 m
MLWN
2.10 m
MLWS
0.72 m
H for 2023
6.12 m
L for 2023
-0.03 m
H for 2024
6.18 m
L for 2024
-0.07 m
MSR
4.89 m
MNR
2.4 m
Abbreviations
HAT – highest astronomical tide
LAT – lowest astronomical tide
MHWS – mean high water springs
MHWN – mean high water neaps
MLWN – mean low water neaps
MLWS – mean low water springs
H – highest for year
L – lowest for year
MSR – mean spring range
MNR – mean neap range