Ilfracombe tide gauge site
The tide gauge building is located in the corner of the harbour car park. The pressure points are fixed on the seaward end of the low jetty.
Click here to see a map of the site in a separate window.
Tide gauge location
The tide gauge building contains the pneumatic control panel and POL data logging equipment.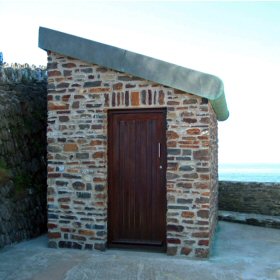 The tide gauge is levelled to the tide gauge bench mark supported by Ordnance Survey auxiliary marks.
External users
Environment Agency, South West Region
Environment Agency, Southern Region
Environment Agency, Midlands Region
Environment Agency Wales / Asiantaeth yr Amgylchedd Cymru
Site history
1968 – Lea gauge installed
1973 – Ott punch tape recorder installed, Lea gauge removed
1983 – Ott recorder removed
1983 – DATARING system installed with full tide pressure point and Wellhead unit
1991 – Building removed after storm damage to the pier
1991 – Building and DATARING system reinstalled
1992 – Mid-tide pressure point installed
2000 – Tide gauge building removed for the demolition of the pier
2000 – Temporary tide gauge established in a cabinet on the harbour car park
2002 – Tide gauge system relocated to the new tide gauge building – two full-tide and mid-tide pressure points were fixed to the low jetty wall
Location
Latitude
51° 12.668'N
Longitude
4° 6.743'W
Grid ref
SS 5255 4789
Earliest data
1968
Tidal levels
HAT
10.26 m
LAT
-0.09 m
MHWS
9.27 m
MHWN
6.99 m
MLWN
3.11 m
MLWS
0.86 m
H for 2023
10.11 m
L for 2023
0.12 m
H for 2024
10.17 m
L for 2024
-0.07 m
MSR
8.41 m
MNR
3.88 m
Abbreviations
HAT – highest astronomical tide
LAT – lowest astronomical tide
MHWS – mean high water springs
MHWN – mean high water neaps
MLWN – mean low water neaps
MLWS – mean low water springs
H – highest for year
L – lowest for year
MSR – mean spring range
MNR – mean neap range